A press conference and celebration to discuss what's next for the activists who occupied the grounds of the Main Berkeley Post Office for a year-and-a-half
When: Saturday, April 23, 2016 starting at 1:00PM
Where: Downtown Berkeley Post Office, 2000 Allston Way, Berkeley, CA
Why: Though our occupation has been torn down, the fight to preserve public resources, free speech, and the rights of homeless people must continue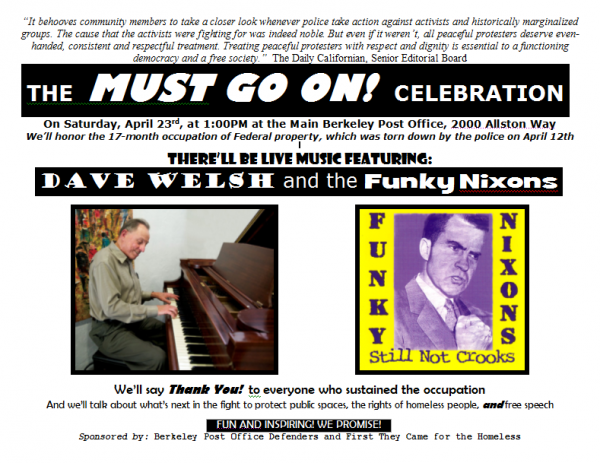 Though the Main Berkeley Post Office is not currently up for sale, the USPS continues to pursue a "shrink to survive" strategy by reducing and outsourcing services, chiseling away at union employment, and selling post offices around the country.  Management of this huge enterprise is neglected with only three Governors on the Board that is chartered for eleven.  The Postal Service continues to ignore the strong recommendations of its own Inspector General to correct anti-competitive practices in its real estate division and to pursue financial viability by offering banking services to its customers.
Allowing the USPS to wither in this way threatens the citizenry with the loss of universally accessible mail service, with a devastating injury to organized labor, with the elimination of public space on Main Streets throughout the country, and with the abdication of the Constitutional mission to provided a vehicle for the transmission of free speech.
During our 17-month occupation of the Main Berkeley Post Office, we expanded our mission to protest the criminalization of homeless people.  Solving the widespread social problems that result in homelessness is not, nor can it be, the job of the police.  We will continue to raise awareness of this strategic miscalculation by city officials and to demand that truly affordable housing be created for the homeless so they can spend more time putting their lives in order and less time shifting their belongings from pillar to post.
Our press conference will review the course of our 17-month occupation.  We will thank everyone who played a role in sustaining our presence on the grounds of the post office.  And we will discuss our strategies going forward:
– To organize community members to call out the USPS for not using the Main Berkeley Post Office to its full potential, and for not heeding their Inspector General's recommendations to crack down on their real estate division and to institute postal banking.
–   To invite candidates for election in November to use the Main Berkeley Post Office as a backdrop for supporting union labor, for Main Street Not Wall Street, and for attacking the predatory fringe finance industry.
– To retain and build on the way we've used public space for free expression. No matter how one might speculate as to the reasons why the Postal Police tolerated our occupation for so long, we demonstrated that public officials may not have absolute control over the use of spaces they administer, but that communities can override authorities without relying on permits, petitions, lawsuits, lobbyists, threats, or bribes. We can just use those spaces.
– To continue to nurture the community garden that we planted on neglected post office property over a year ago, and to which we are currently denied access by US Postal Police.
Berkeley Post Office Defenders: https://berkeleypostofficedefenders.wordpress.com/
First They Came for the Homeless: https://www.facebook.com/pages/First-they-came-for-the-homeless/253882908111999?ref=br_tf
BPOD is affiliated with Strike Debt Bay Area: http://strike-debt-bay-area.tumblr.com/
For more on the privatization of the USPS:
Saving the United States Postal Service as a Public Enterprise: http://tinyurl.com/ltqq7ng

Privatization Is Social Cancer; Saving the US Postal Service: http://tinyurl.com/mbcbzrf